2014 Chevy Tahoe in San Antonio, TX
There is almost nothing that the 2014 Chevy Tahoe in San Antonio, TX that is currently available at Cavender Chevrolet, can't do. When Chevrolet engineers first rolled out the Chevy Tahoe a number of years ago it was designed with someone in mind that was serious about getting things done and serious about having fun. The incredibly capable 2014 Tahoe has class-leading cargo space as well towing capacity that if it isn't at the top of its industry class, it's going to be pretty close.

At the heart of the 2014 Chevy Tahoe in San Antonio, TX is a Vortec 5.3-liter, V-8 engine that can produce 320-horsepower and 335 pound-feet of torque. This powerful combination of engine choice and overall highly capable drivetrain give the new Chevy Tahoe the ability to provide an array of services to owners and fleet managers. The Vortec 5.3-liter engine also benefits from having the innovative Chevrolet Active Fuel Management technology that will turn off valves in order to conserve fuel, but only when the situation is appropriate.
Interior elements of the 2014 Chevy Tahoe in San Antonio, TX
The new 2014 Chevy Tahoe is a nine-passenger SUV that provides families with the space to make sure small border skirmishes don't escalate into full-scale tantrums from children of all ages. Leading the way as a possibility to keep the peace is the availability to add a rear-seat DVD entertainment system. The very comfortable seats can also be heated or cooled, depending on trim level. With the rear two rows of seats stowed away for maximum cargo space, the 2014 Chevy Tahoe in San Antonio, TX offer 108.9 cubic-feet of space to work with. In fact, the second row of seats can be folded up using a power-release fold and tumble design.

Several trim levels of the 2014 Chevy Tahoe will come with plush and supple leather upholstery that adds more than its share of luxury to an already very comfortable vehicle design. There is hardly a person that will not find any seat in the Tahoe's passenger cabin comfortable.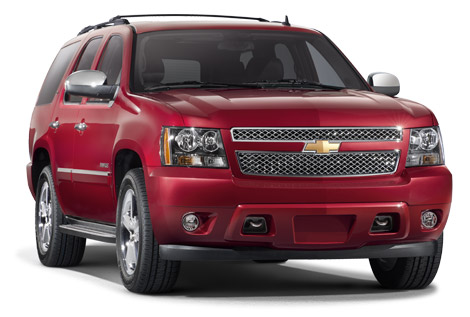 2014 Chevy Tahoe safety features
Because of the advancements in SUV suspension design and tuning, the risk of rolling over the 2014 Chevy Tahoe in San Antonio, TX has been greatly reduced. The patented and award-winning Chevy StabiliTrack Electronic Stability Control System that is integrated with the traction control system goes to great lengths to make sure all four wheels stay firmly planted on the road surface. If there is a crash event that takes place while driving a 2014 Chevy Tahoe, a suite of six air bags will be deployed to protect every passenger. The 2014 Chevy Tahoe available at Cavender Chevrolet also comes with OnStar Automatic Crash Response for the first six months of ownership.
Schedule Testdrive